The Perfect Heating Solution for Architecturally Significant Homes

Summary
Installation Date: September 2014
Unico System: 14kW with Hydronic Coil and 30 room outlets
Energy Source: 14kW Panasonic Air to Water Heat Pump
Controls: 5 x Jackson Systems Room Thermostats and Dampers, 1 x Zone Control Panel
Benefits
Even temperatures across the rooms
NR20 Sound Level Rating. Very quiet
Zone control options
Discrete supply outlets
Flexible design and installation
EC Variable Speed Control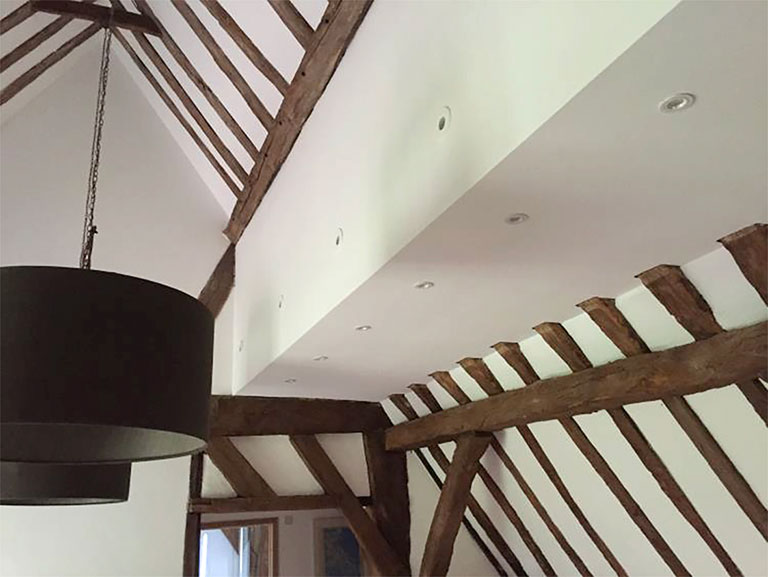 Property Owner
"We are extremely impressed with how quickly the system heats the rooms on a cold day. The outlets are discreet and provide a very even room temperature, they have also allowed us to maximise our wall space for furniture…"
Ed Cyster
Background
Unico was specifically chosen by the client to provide a heating only solution for all rooms on the upper floor which would not compromise the architectural integrity of this historic building.
Due to the age and construction of the property, the installation of a conventional heating system was not possible and the owners wanted to maximise the limited wall space available for furniture.
After researching "Warm Air" systems, they found the Unico System to provide a design and solution for heating the Upper Floor of the property.
Solution
A 14kW Unico System is installed throughout the loft area to provide heating to three bedrooms including the Master Suite, Hallway gallery and a small annex with an additional bedroom and Kitchenette. The flexible supply ducts connected to discreet, ceiling mounted outlets provide the perfect comfortable environment to the entire Upper Floor.
The Unico System is connected to a Panasonic Air to Water Heat Pump which provides energy efficient heating whilst at the same time allowing the owners to benefit from the Renewable Heat Incentive payment scheme.
The system provides individual temperature control to five separate zones with variable speed operation.
The Unico System EC fan motor along with the heat pump provides extremely low running costs in this off-grid location.