The Unico System supply tubes are often referred to as Sound Attenuators due to the unique sound deadening properties and overall design of the duct. The tubes core is made with nylon, a layer of high-quality insulation and finally wrapped in a two-ply reinforced mylar; providing a vapor seal to prevent leakage and moisture migration whilst enhancing the energy performance by reducing the radiant heat transfer and thermal losses.
The UNICO System Supply Tubes have unique sound cancelling properties.
Twist fit - now available for 2″ (51mm) flexible supply tubing
The new supply duct connection system reduces the steps and time involved in the installation process.
FEATURES & BENEFITS
Lock-and-release tabs for easy assembly
Couplings attached to tubing at the factory
Change outlet faceplates in a snap
Compatible with high velocity products
Simplified parts list for ordering ease

Standard 51mm ID Flexible Supply Tubing
Our standard duct can deliver up to 35 CFM
Full range of round and slotted outlets which are available in a variety of finishes
Outlets can also be painted to match any colour
Recommended to use 6 outlets per nominal ton to keep noise levels virtually silent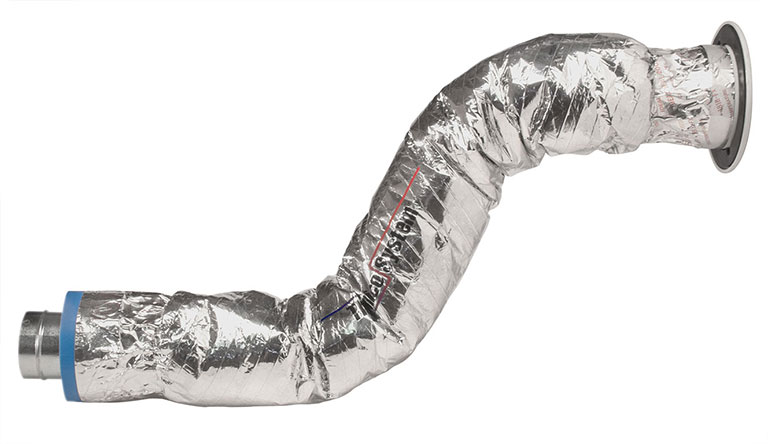 * 2.5″ I.D (inside diameter) tubing is available for larger system but on extended deliveries.
The supply tubing is generally supplied in 12' lengths and can easily fit between joists, weaving through ceilings, walls, and floors and into the fabrication of the home. The standard supply tube is 51mm ID (internal diameter) and can be supplied as individual items, single outlet kits or a 6-piece pack depending on the system design. Each system designed by UNICO will generate the correct configuration and list of individual items for each installation.