Superior Climate-Control
UK home owners can now enjoy all year-round superior climate-control and comfort delivered by the UNICO small duct system. With our ever changing and challenging climate, the UNICO system is perfectly suited for modern day living so whatever the conditions outside the UNICO system offers FUTURE comfort and climate control today.
The UNICO System replaces the need for traditional radiators and underfloor heating with the added option of cooling your property when installed with the appropriate Air Source Heat Pump. As with all significant investments you should always do your research to ensure you select the very best system for your home and personal lifestyle.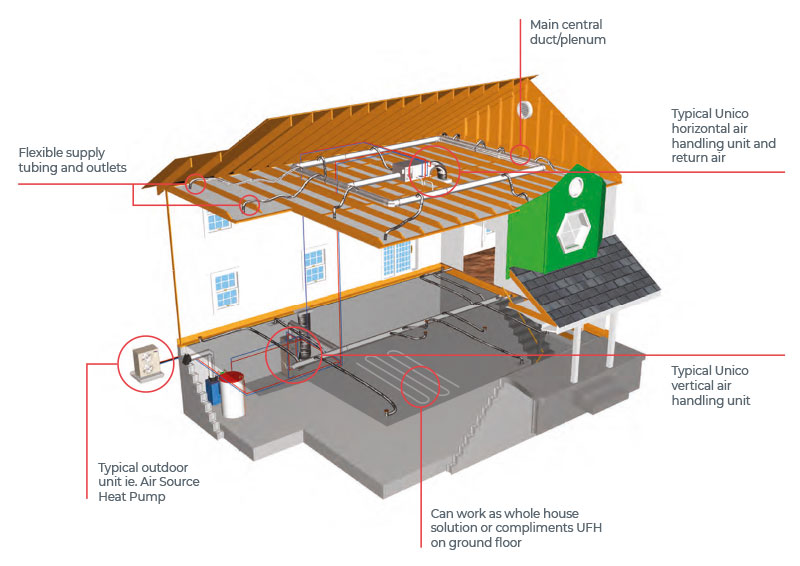 Easily Installed in Lofts and Utility Rooms
The UNICO System is a small-duct, small air handler system for central heating, air conditioning (cooling) and ventilation applications. The systems modular air handlers can be easily installed in lofts, utility rooms, voids and crawlspaces. Careful consideration is required for the location of the air handler units (AHU) and the central duct system. From the central duct the sound attenuated 89mm flexible supply tubes easily runs through and around the construction of a new building or existing buildings, where voids or more likely the loft space can be utilised.
Low Noise Minimal Vibration
Our supply tubing is designed to be as quiet and efficient as possible, with a nylon inner core and insulation that absorbs sound. Our air handlers are designed to isolate noise and vibration, with closed cell, sound-deadening insulation. Together, they bring decibel levels to the equivalent of a soft whisper. While you'll feel the comfort our system provides, you'll hardly notice it's running.
Listen to Typical Domestic Appliances
Listen to the Unico System, Remember to Turn Up the Volume
Draft-Free Even Temperatures
Traditional systems distribute air unevenly, dumping air into rooms, creating drafts and uneven temperatures throughout different parts of the room. The Unico System uses a principle called aspiration, creating a gentle suction around itself that draws the room air into its stream of cooled air. This delivers even, draft free cooling, from room to room, floor to floor, and floor to ceiling. The temperature differential is no greater than 1°C throughout your home.
Comfort by Design
The unique design of its cooling coil means The Unico System removes up to 30% more humidity than conventional air conditioning and heating systems. So, you can keep your thermostat a few degrees higher while feeling the same level of comfort—and that saves on energy costs and creates a much more comfortable conditioned environment which is essential for general well-being. It can also help with productivity and learning in the work space as people perform better in a controlled environment.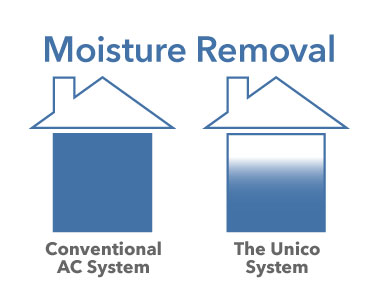 Key System Benefits
Superior energy efficiency performance with 97% of the system energy delivered to the conditioned living space.
Removes 30% more humidity than traditional HVAC systems for improved air quality and optimum comfort levels.
Our gentle 'Aspiration' principal and technology creates a draft-free, ultra-quiet and even room temperatures.
The air is delivered quietly and seamlessly with decibel levels down to a whisper (< 30 decibels).
No more unsightly radiators, freeing up your wall space for furniture optimisation and more creative thinking.
One simple solution offering instant heating & cooling along with improved air quality and well being.
A truly flexible system that can work independently or alongside traditional radiators, underfloor heating and MHRV systems.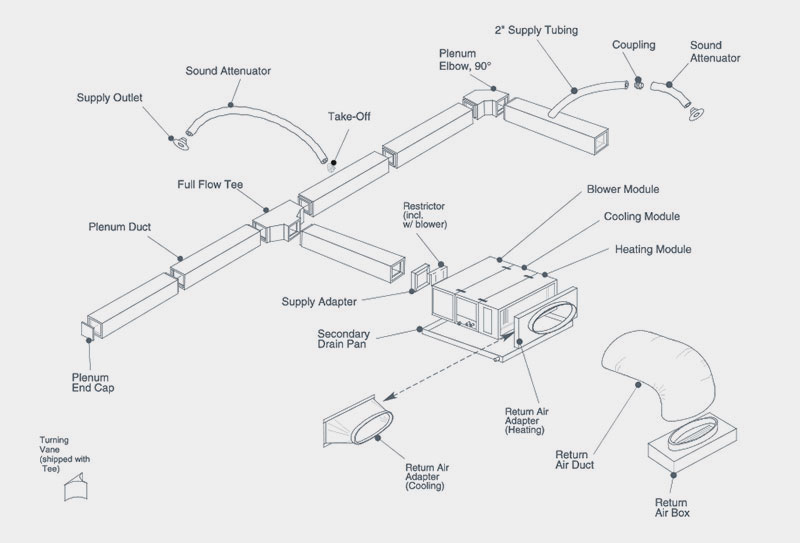 What Size do I Need & How Much Will It Cost?
The UNICO System is available in 5 sizes and selection is made once the calculation for the heating and cooling demand has been established. Each system requires the same criteria and approach as it will consist of the same technology and products other than their physical size and performance.
Each project and house type can be very different and whilst two properties may look similar from the outside the construction, U-value and load requirement can be very different. Therefore the price range can vary and we recommend you speak to one of our approved Specialist Partners who will be able to offer further advice about your property and system requirements.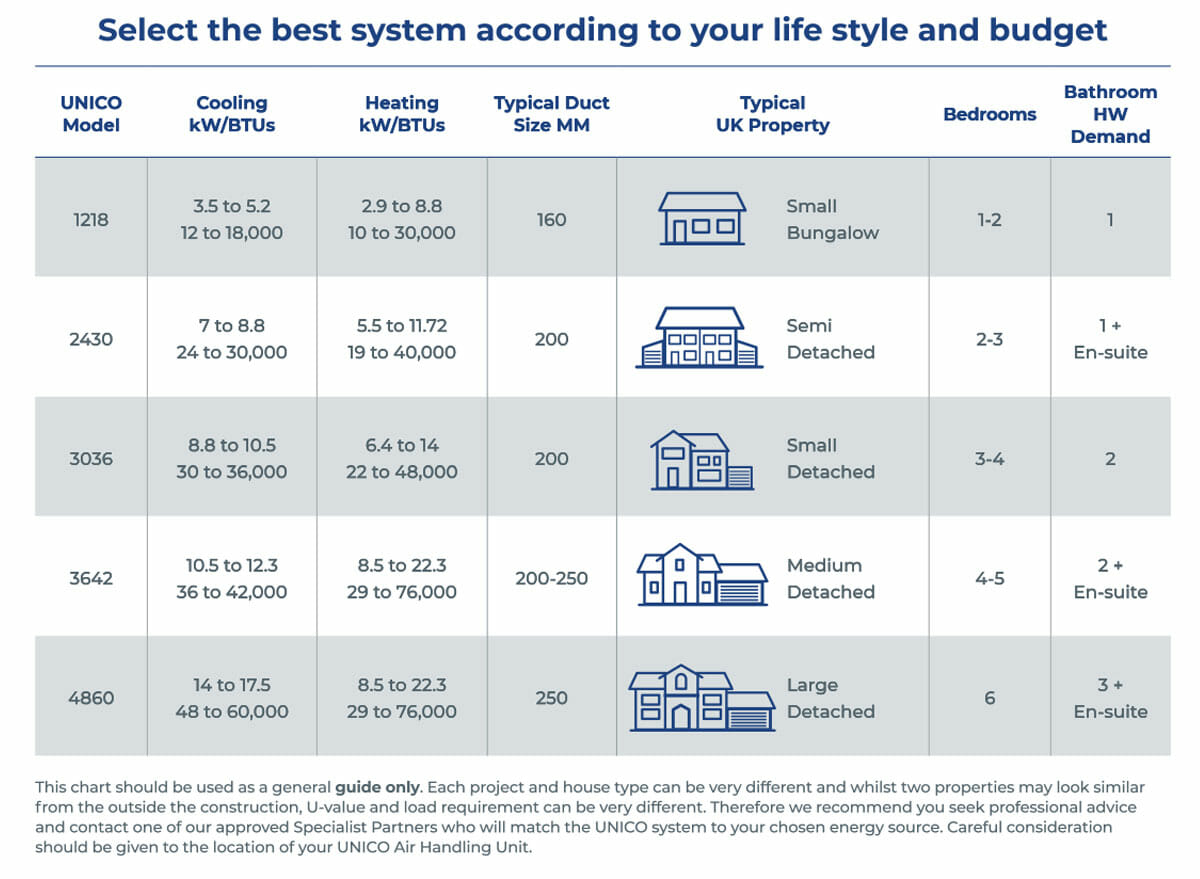 Applications
The UNICO System is generally used with renewable technologies such as air to water heat pumps or direct expansion condensing units. Its simple modular design means you can select Heating only, Cooling only or both. A single air handling unit providing a standalone whole house air conditioning solution or a combined system with Under Floor Heating on the ground floor with The UNICO System providing air conditioning on the first and second floor.
When outside temperatures rise modern homes can overheat making sleeping difficult for all the family. This is why growing numbers of customers are now choosing the UNICO System for their bedrooms as well as the main living area. The design of our fan coils reduces humidity and improves air quality which can have real personal benefits which is why more businesses and schools are specifying the UNICO System as it improves working conditions, concentration and productivity which ultimately enhances your employee or students well-being.
Light Commercial & Residential Solutions
The UNICO System is designed for both light commercial and residential applications. With both direct expansion refrigeration and water coil solutions available we have highly efficient products that will provide superior heating, cooling and air quality so is an ideal solution for general well-being and improved productivity.
Advanced Technology
The only high velocity manufacturer to utilize a true variable speed EC motor in our Green Series air handler units. Combined with the EC motor is our S.M.A.R.T (Software Managed Air Rate Technology) control board that allows for exact airflow and temperature control. It has the ability to pair with numerous outside condensers, heat pump and boilers as well as mechanical vent and heat recovery systems. As with all installations it is important that your contractor selects products that have been or can be matched to ensure optimum performance and compatibility prior to securing the project. This is why we encourage all end user clients and home owners to obtain a detailed system design. We will only supply product to qualified and competent installers who have attended our dedicated training centre in the West Midlands.
Warranty
All products come with a 2-year warranty but this can be extended to 5 or 10 years when installed by a UNICO Specialist Partner.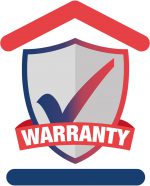 Controlling the Unico System