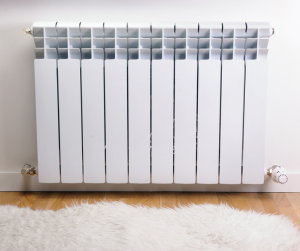 As we begin the move away from heating our homes in the more traditional way of fossil fuels, which use boilers and gas fires, our attention turns to new methods of heating such as through electrifying heating systems. This change is in response to the government's policy paper Power up Britain, where it announced plans to phase out the sale of gas boilers and replace them with heat pumps.
One such alternative gaining popularity is the use of heat pumps in conjunction with innovative systems like the UnicoSystem.  In this article, we will explore the concept of heat pumps and how the Unico System offers a cutting-edge alternative to traditional large radiators for heating homes efficiently and sustainably.
Enter heat pumps
Heat pumps are energy-efficient heating and cooling systems that transfer heat from one location to another using electricity. They work by extracting heat from the outside environment (even in cold weather) and moving it indoors to heat your home. A further benefit is that as it captures heat that is already present in the environment, the heat pump does not burn any fuel and therefore emits no carbon dioxide. Heat pumps therefore provide a highly efficient, low-carbon, alternative for your heating.
Heat pumps work at lower temperatures than traditional boilers so larger radiators may need to be installed to distribute heat more evenly via the larger surface area.  When paired with the right heating system, heat pumps can be a fantastic alternative to traditional boilers. Most homes can be well-heated through a heat pump with the right-sized radiators or underfloor heating.
Disadvantages of radiators in your home
While most radiators are compatible with air source heat pumps, the bigger your radiators, the better job they'll do.However, the oversized radiators typically required for working alongside heat pumps will be a drawback for some homeowners as they are not only costly to buy and install but also take up a lot of additional wall space.
Although there are some radiators that have been designed to fit in with the aesthetics of your interior design and can look quite modern whilst adding drama to a room, there is no getting away from the fact that they can still look big and bulky.
Storage space in more modern homes comes at a premium so having radiators of any size gets in the way of allowing additional storage units to be placed within the home against walls.
The Unico System Advantage
To rectify this problem, in place of radiators, the Unico System uses discreet outlets positioned in the ceiling, walls or floors allowing homeowners to make maximum use of their internal space.
This system allows the freedom of design currently enjoyed by architects, self-builders, and interior designers across the UK. Without the interruption of radiators within the rooms, the design can flow more effortlessly to utilise the whole room.
The use of outlets is more aesthetically pleasing than the alternatives, they come in a variety of designs and finishes that can be custom-made depending on your design requirements.
Unico outlets are either round (approx. 50-65mm inner diameter/125mm outer diameter) or slotted (approx. 25mm by 200mm). They are available in a variety of finishes including black, brass and chrome, or they can be stained or painted to blend into any style of decor. They can even be wall-papered to become virtually invisible in their surroundings.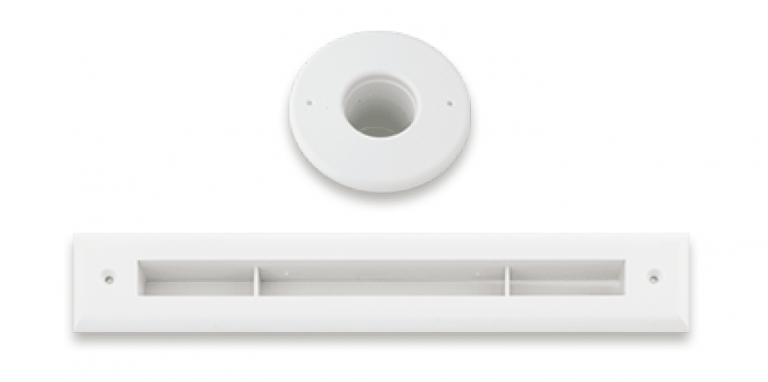 What is Unico?
The Unico System is a small-duct, small air handler system for central heating, air conditioning (cooling) and ventilation applications. Quick and easy to install, it can be paired with air-source heat pumps for maximum efficiency.
During the colder months, Unico will work efficiently to warm your home to your desired, pre-set temperature. Your rooms will receive a steady, warm supply of air via specially located, discreet outlets, based on our unique aspiration principle. Unico will distribute the air evenly and consistently, meaning no hot or cold spots, just an overall feeling of pleasant warmth and comfort to keep you cosy on those long winter evenings.
To find out more about our range of unique heating, cooling and ventilation solutions without the need for radiators, please get in touch.