A core heating and cooling solution for a residential renovation
Installation background
Installation Date: Spring 2022
Property Type: Renovation of 1990s four bedroom detached family home in Dorset. Unico provides heating and cooling to first floor
Unico System: 1218BL1 Blower Module, Variable Speed EC motor, 1218 CL1 Heat Pump Coil
Energy Source: Daikin Altherma Low Temperature Split Air Source Heat Pump
Controls: Nest Home Automation System and Pro Learning thermostat
Additional Technology: Underfloor Heating System to ground floor, intelligent hot water tank for precise hot water delivery, energy saving battery storage utilising low cost overnight tariffs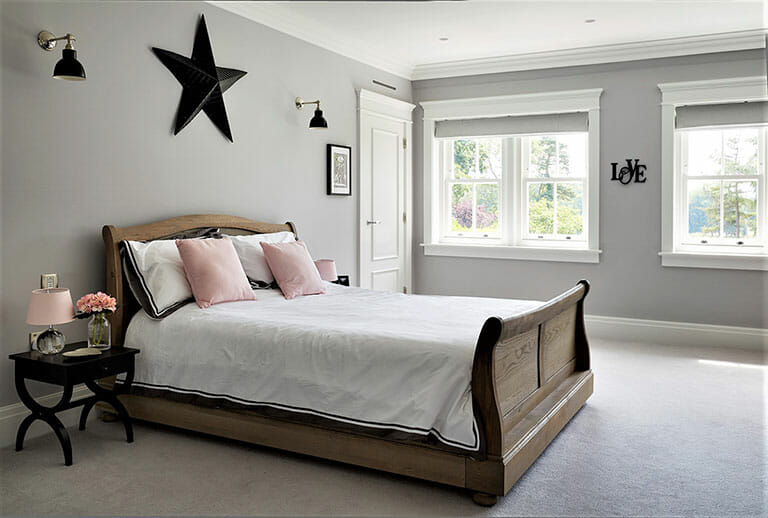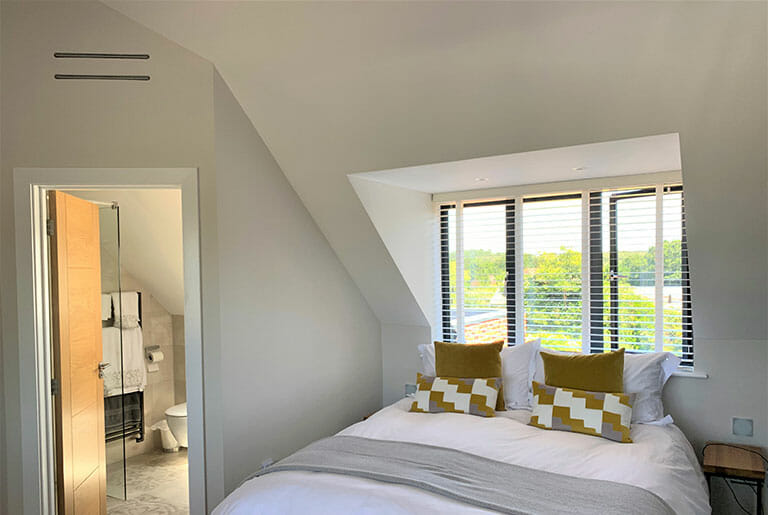 Solution
The specification of Unico System for the installation has demonstrated how this technology can form the core heating and cooling solution for a home renovation project based on renewable heat pump technology.
The property has undergone a complete renovation. Energy saving loft and cavity wall insulation was already installed and the owners wished to dispense with the ageing gas boiler, microbore pipework and wall hung radiators. These were to be replaced with a new system featuring renewables and electricity only. With the expectation of higher temperatures and hotter, less comfortable nights in the years to come, investment in an all in one system that can use renewable energy for heating, cooling, ventilation and indoor air quality throughout the year was the ideal solution.
The compatibility of the system with renewables was essential and a Daikin Altherma Low Temperature Split Air Source Heat Pump was selected as the matching energy source. The heat pump is linked to the space saving horizontal Unico 1218 Air Handling Unit situated in the loft and features variable fan speed motor, a Smart Control Board for precise airflow control and a Heat Pump Coil module. The main central duct connects to the air handling unit, feeds the flexible supply duct tubing before emitting conditioned air into the bedrooms through discreet round ceiling outlets.
To further maximise the energy efficiency of the installation, battery storage technology, running on low cost overnight tarrifs, stores electricity for lighter duty appliance power consumption during the day. To meet hot water demand precisely and exactly on time, an intelligent hot water tank has been installed.
The Unico System features air filtration to remove larger particulate from the indoor air. For additional continuous protection from airborne viruses and bacteria, complementary bi-polar ionisation technology has also been specified.
Space saving roof space installation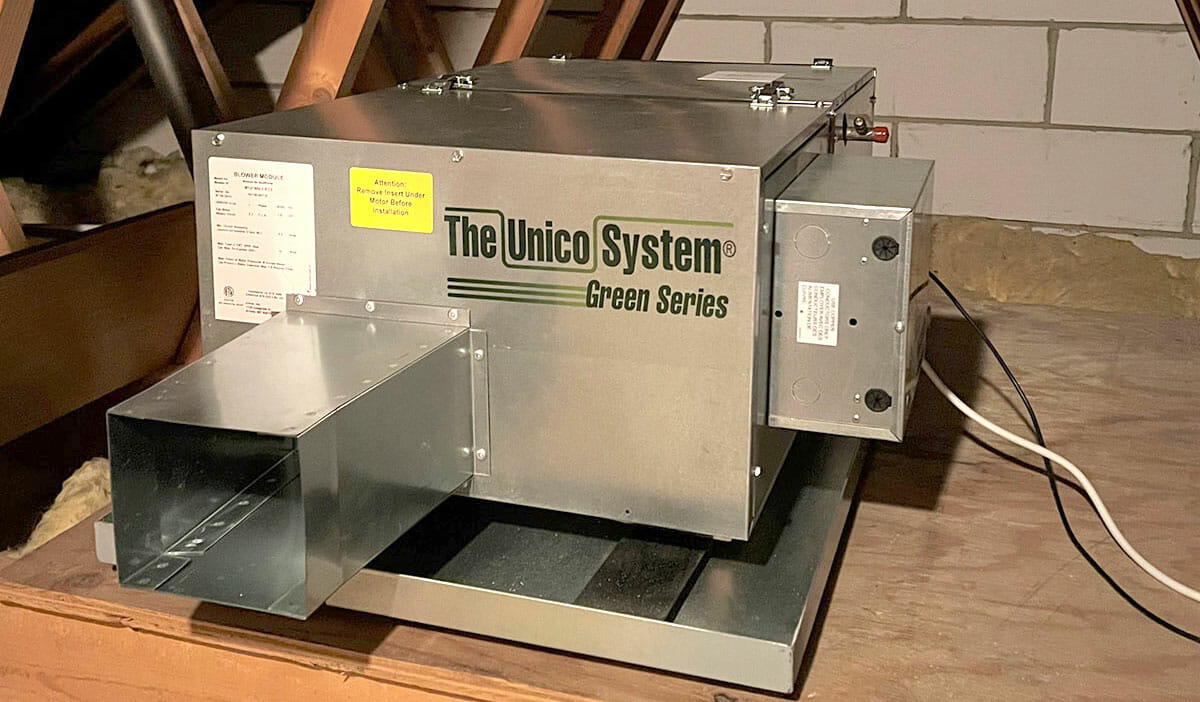 Advantages
All year round heating and cooling solution
Convenient use of the loft space for the compact air handler, ductwork and flexible supply tubing is a key in retrofit renovation projects
Lightweight modular ductwork promotes safe, easy handling and time savings during installation
The air handler isolates noise and vibration with sound deadening insulation, allowing installation immediately above the main bedroom with no risk of noise disruption
The flow of air through the supply tubing and into the room through the ceiling outlets generates minimal noise
Wall space freed up with the removal of radiators
Once heated or cooled air enters the bedroom it creates a draught free, even environment with minimal temperature fluctuations
Removes 30% more humidity from the air compared with conventional heating and air conditioning systems, improving air quality and preventing the formation of damp and mould
Improve indoor air quality with the Unico System